Choosing the best possible materials for your pool deck requires certain aspects and considerations. Unlike a regular patio, this dedicated space is associated with certain special performance activities. Majorly, the material needs to be easy on bare feet and offer characteristics like non-slippery, resilience to chemicals, and heat reflectance. So, let's have a look at these 7 materials that can be considered for your next pool decking project!
Concrete
One of the most versatile and popular pool decking options, concrete is also extremely durable, strong, and requires minimal maintenance. If you prefer a sleek minimal look, then you must consider concrete for your next project. Moreover, it's cost-effective as well! However, concrete can also be subjected to heat and extreme temperature changes - thus, resulting in cracks in the long run. If you want a cement and concrete look, but want to pass on the maintenance that comes with, you may choose cement look porcelain tiles in matte finish.
Natural Stone
Stone is a great pick if you want to achieve a natural and rustic look. This natural texture on the surface of the stone allows a slip-resistance character - hence, a win-win solution. There are also various options to consider like limestone, sandstone, or the most popular natural stones available in your region. Moreover, this option can be quite expensive and you must avoid the darker-hued stone since that can heat up the surface quite quickly. 
Slate Look Tiles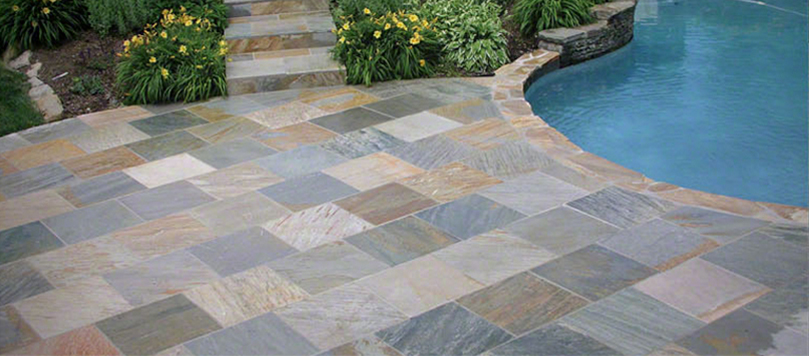 Slate Look Tiles are sophisticated and an elegant option for your pool decking surface. They are made of porcelain, but with a natural slate look. There is simply a wide array of colors, patterns, shapes, and designs to choose from. Yes! The list is endless. However, you must take into consideration the factors like the texture or the finish of the tiles. It's ideal to choose matte tiles over glossy tiles! Secondly, the tiles are efficient in holding extreme temperatures - so, that's a win-win situation.
Brick
Bricks offer a traditional and rustic appearance and can be used in any size and color alongside the perimeter of the pool. This pool decking option is not very absorbent so the dirt and stains can easily be washed away. Moreover, it's quite slip-resistant. On the other hand, the brick pavers are subjected to the growth of moss and algae - thus, requiring constant maintenance in the long run.
Porcelain Pavers
Porcelain Pavers are a popular landscape option for pool decking that generally comes in concrete, brick, and stone. These interlocking pavers are also available in different colors, sizes, and shapes to achieve the desired look. One of the most ideal - porcelain pavers are an impervious material, hence, it doesn't grow mildew and is also slip-resistant by nature. Generally, this option is more expensive than brick pavers and concrete but less expensive than stone. 
Travertine Pavers
The travertine pavers have an extremely rich and luxurious look that can be used for Mediterranean backdrops. They are installed over a base of sand and gravel and can offer extreme durability and strength. It's also cheaper than porcelain pavers!
Artificial Turf
Artificial turf is a permeable option composed of synthetic materials that can typically exhibit the real look of grass. It's non-slippery and a safe option to be used around the pool perimeter. Moreover, it requires minimal maintenance and offers durability for up to 15 years. On the other hand, artificial turf can absorb heat quite quickly and may not be a favorable option during summers.
The Winner: Porcelain Pavers
Summing it up, the porcelain pavers are what steal the most attention. They offer an all-in-all experience and make your pool deck also look flawless and cohesive! So, are you ready to get on board the next pool project?